Maypole School Parents Association (MSPA) is a registered charity that organise a variety of fun events for pupils and parents throughout the year. These events raise essential funds that benefit our school and provide our children with even greater opportunity. Just some of the money we raise goes towards great initiatives such as, welcome book bags for Reception children, covering the transport costs for annual field trips, IT hardware, t-shirts/hoodies for year 6 leavers, playground improvements and much more!

Every parent is welcome to attend MSPA meetings and the Annual General Meeting at which parents may seek election to the committee. It goes without saying that in whatever capacity you're able to help out, your time at events is always needed and very much appreciated. Remember we cannot achieve our goals without your valued support.
Join our facebook page to stay up to date with discussions, events and much more.
Chairperson - Jamie Bell
Treasurer - Christina Fuller
Secretary - Alison Joyce
Contact Details
Jamie Bell
mspa@outlook.com
facebook.com/groups/maypoleschoolpa
Balloon Race 2017
We had a great end to term one with the Annual MSPA Balloon Race. Nearly 1600 balloons were purchased raising £1150 for the school. This year we have a new sponsor, Wisdom Estates, who we thank very much for their support.
Classes with Gold Balloons were Piglets who sold the most balloons and Horses and Chicks who both had the highest number of forms returned.
Thank you to everyone who helped at the event or purchased a balloon!
MSPA granted registered charity status
We are pleased to announce that the MSPA is now a registered charity. We hope this will help us to raise even more money for the school!
Sign up for Easyfundraising
With Christmas coming up it's a great chance for you to raise money for the school while doing your online shopping and it doesn't cost you a penny extra! It's now easier than ever to raise money with the new easyfundraising app and website toolbar to make sure you never miss a donation.
There are no catches or hidden charges and we would be really grateful for your donations.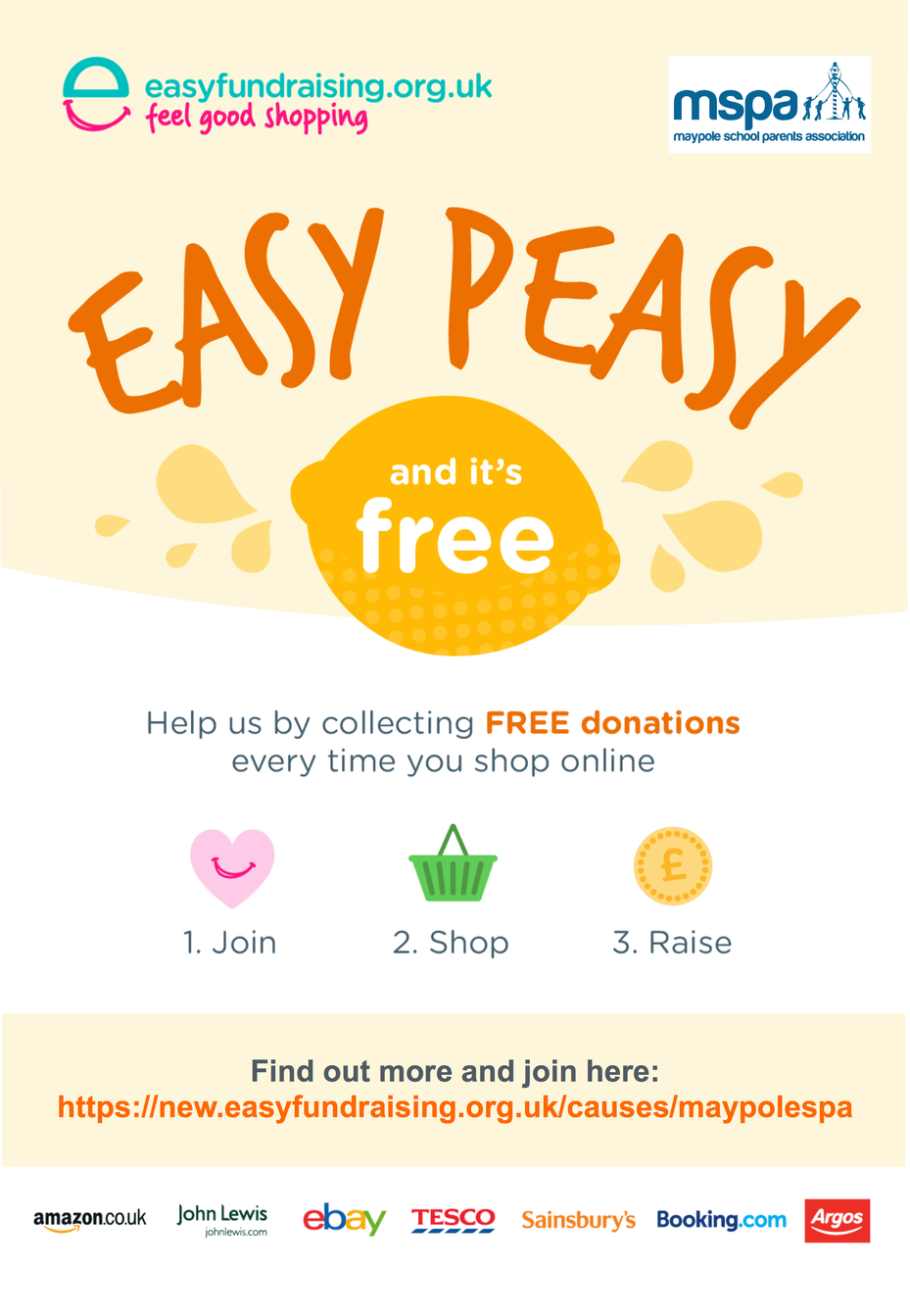 Balloon Race 2016
There was lots of excitement as the children watched over 1400 balloons rising high into the sky. Red balloons were released by the two classes buying the most balloons: Piglets (1st), and Foals (2nd).
Thank you to Clifton Button, whose company, Clifton & Co. Estate Agents, sponsored the Balloon Race, supplying the balloons and the some of the helium gas – many thanks; we really appreciate your support.
Thank you to Mrs Toms and all the MSPA who worked tremendously hard organising the balloon race and blowing up the balloons.
Thank you, also, to all the parents who attended this successful event and for your continued support for the school.
Mother's Day Gift Room - Friday 4th March
On Friday 4th March we will be holding our usual Mother's Day Gift Room. Each gift will cost £2 and your child will have an opportunity to buy a gift during the school day. If they require more than 1 gift then they can purchase these after school in the playground. There will be some gifts which do not have mum on it so pupils can buy for grandma/auntie etc. if they wish to do so.
This is a money raising event so the MSPA buy gifts for a pound and sell for two pounds. The children love choosing their own gifts and will have a wide selection to choose from.
If you would like your child/children to participate then please ensure they have £2 on Friday 4th March.
Many thanks for your continued support.
Christmas Fair - raised just over £2,000
The Christmas Fayre proved to be a resounding success; as you know, it raised just over £2,000.
Sainsburys Bag Packing - Raised £1001.10
Well done to the 30 pupils who gave up their time last Saturday 'Bag Packing' for shoppers at Sainsbury's in Crayford. Together, the children raised £1,001.10 for the school, a magnificent achievement! Many customers and cashiers commended the children for being so helpful and polite; they were a real credit to the school. All the children will be given a Gold Headteacher's Award at our Celebration Assembly on Friday and they will be rewarded with a non-school uniform day on Monday 12th October.

A huge thank you to:
Lara H – Y1; Rosie H & Luke K – Y2; Jasmine S, Rian P & Taylor W – Y3; Alex N, AJ D, Billy W, Chloe T, Daisy B, Evangeline H, George H, Jack H, Jake B & Jessica E – Y4; Callie C, Grace M, Gyani P, Harvey S, Holly P & Neve W – Y5; Brooke S, Caitlin C, Danika B, Emily L, Kaia A, Louis M, Lucia M & Shayna-May W – Y6.
Happy Bags - Raised - £185.65
Thank you to all those parents/carers who filled the Happy School bags with any unwanted clean clothes, handbags, belts and soft toys and took them to the school office.
The £185.65 raised will go towards this years fundraising for the new school libraries.
This is a great way to raise money for Maypole School that doesn't cost you anything, so we will run another collection sometime in the year.
Many thanks to all.
Inflatables Day - Raised £675.00
The last event on the MSPA calendar, but also a new event for the MSPA. On Friday 10th July after school, the field was full of 14 inflatables, ranging from bouncy castles, climbing wall, gladiator duel and a rodeo bull. Parents and carers came along laden with their picnic blankets and food, enjoying the beautiful sunshine and watching their children having lots of fun.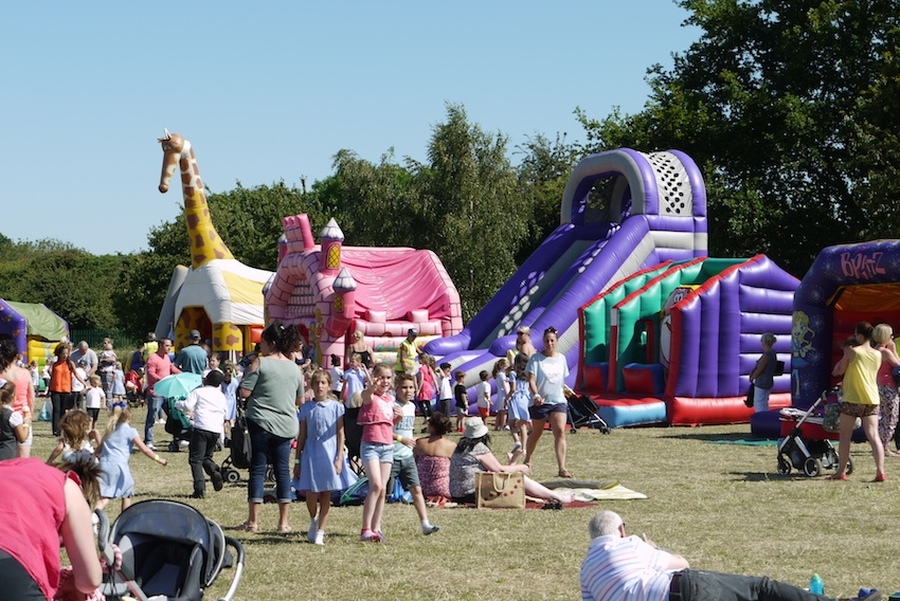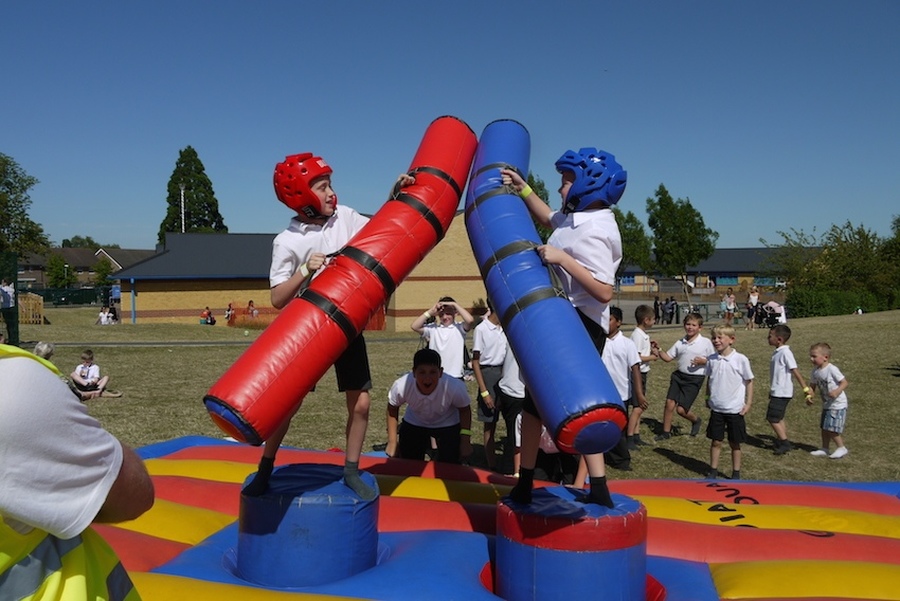 Maypole Sports Shirts
The MSPA have bought Royal Blue T Shirts, branded with the school logo and school name on the back. Now when the school attends any sporting events, other schools know who we are!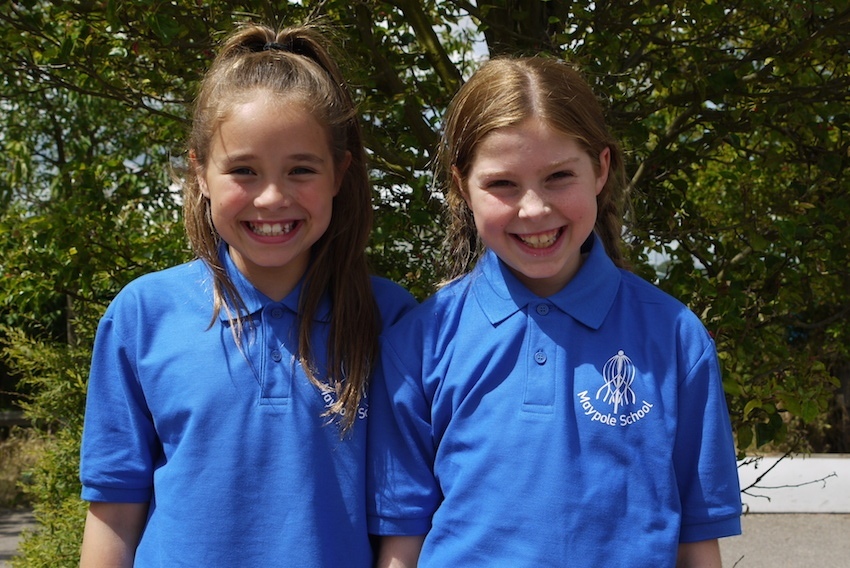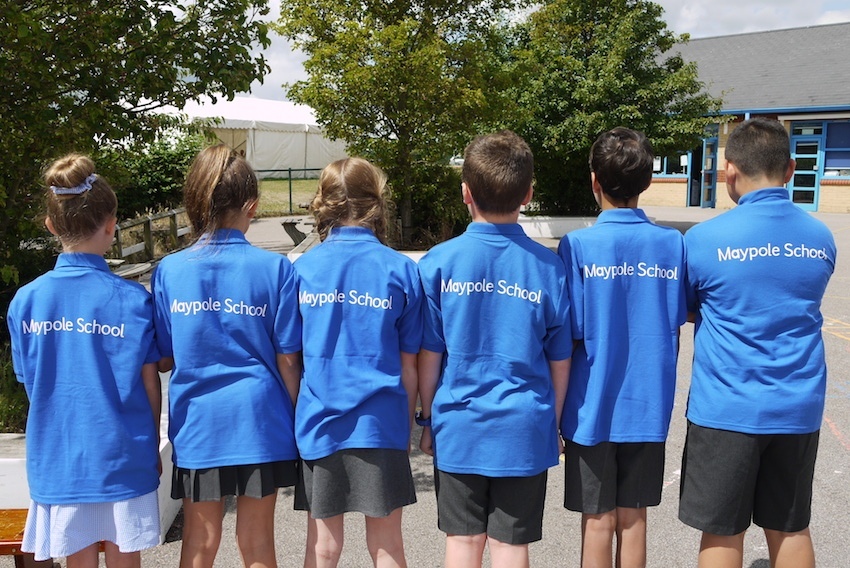 Annual Balloon Race Results - raised £1,584.26
The MSPA are pleased to announce the results for the Annual Balloon Race. We raised a staggering £1,584.26. A huge thank you to Clifton & Co for sponsoring the event.
A total of 63 tickets were returned to the school, travelling through Kent, France and then on to Switzerland. We a total of 11 tickets returned in Switzerland alone. The following links, shows the locations of all the returned ticket and also a powerpoint presentation with the recordings mapped via google map.
2015 Annuall Balloon Race Results Presentation
Congratulations to the winners of this years race
1st Place: C Watson (H Beckett's sponsor form - Ducklings)
2nd Place: R Daksh (L Hamilton's sponsor form - Ducklings)
3rd Place: L Beltrami (H Relph's sponsor form - Horses)
Happy Bag Collection - raised £190.50
Many thanks to everyone who brought back their Happy School bags. We are happy to announce we raised £190.50.
Celebrating St George's Day - raised £210.80
On Thursday 23rd April, the children at Maypole were allowed to celebrate St George's Day by coming to school dressed in Red and White. A donation of £1.00 from each child that participated raised a total of £210.80.
Thank you to all those children who took part.

May Fair Update
Planning is now well underway for the May Fair on Saturday 16th May. We have lots of fun things planned including Inflatables, Pony Rides, Splat the Rat and Archery Target amongst a few of the stalls.
As usual you will be able to buy burgers and hot dogs along with an Ice Cream or even a Candy Floss.
The event won't be a success if we can't get any willing Parent/Carer helpers to run stalls at the event for a few hours. If you are interested in helping and haven't completed the recent Helpers Form, then please text 07866 498926.
Annual Balloon Race
On Wednesday 1st April, Maypole School held their Annual Balloon Race sponsored by Clifton & Co Estate Agents. The MSPA, along with willing volunteers inflated 1,977 balloons in the morning, then proceeded to put them in a release net.
Two classes were allowed to release a gold balloon, Zebra's for the most amount of sponsorship (balloons sold) and Ducklings for the most children in the class that participated.
The children were then given two balloons to release and parents were invited into the playground to watch the release at 2pm.
At 2pm with a countdown from ten, the balloons were released into the Kent sky, with an easterly wind direction, we now wait patiently to see were the balloons travel too.
In previous years the furthest balloons dropped in Montpeiller in France and also Poland.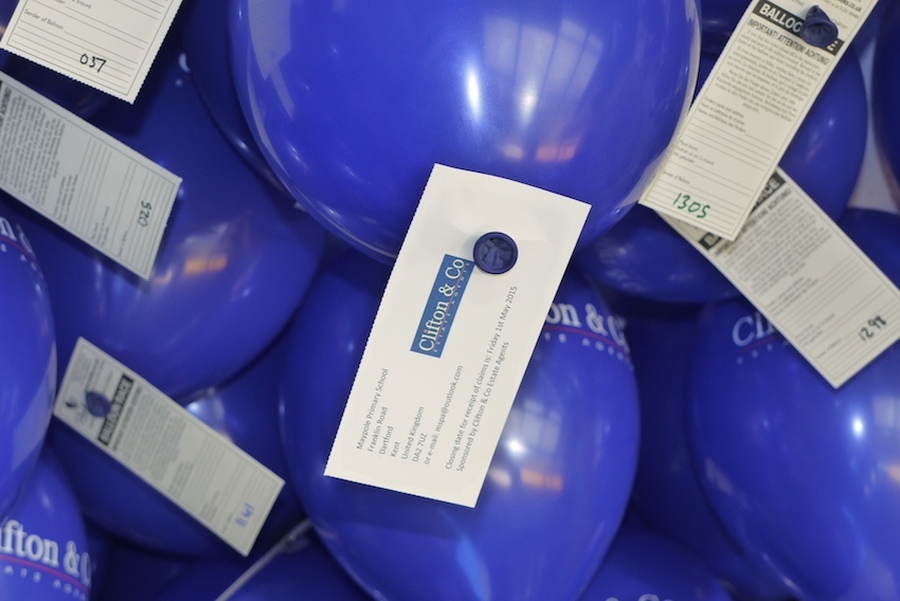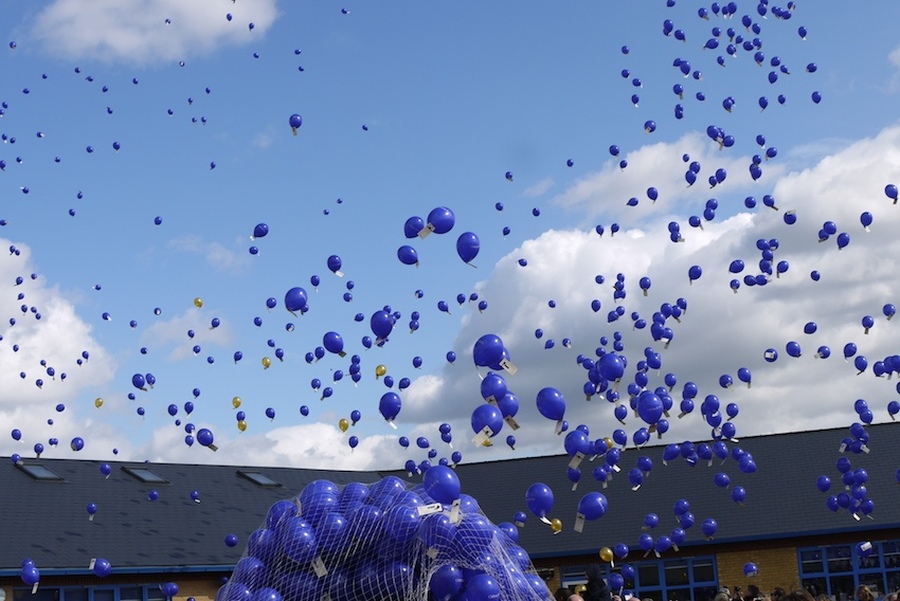 Children Rewarded for Sainsbury's Bag Packing
The 28 children who kindly gave up their time last weekend to Bag Pack at Sainsbury's Crayford, were rewarded by Mrs Wilmann in assembly on Friday 27th March. Each child will be allowed to wear their own clothes to school on Wednesday 1st April and allowed half an hour Golden Time on the Trim Trail and Tyre Park.
Well done to all those children, the MSPA appreciate your support.
Sainsbury's Bag Packing - raised £947.32
Well done to the 28 children from Year 3 - 6 that offered to Bag Pack at Sainsbury's Crayford, this Saturday in 2 hours sessions
between
10 - 4pm.
Over a minimum two hour period, the children asked shoppers if they could pack their bags. Not all customers excepted the offer to have their bags packed, when shoppers declined, the children dealt with the situation in a grown up manner.
Many customers also took the time to come over to the adult helpers to comment on how polite and helpful the children were, and how well turned out the children were in their uniform. A massive thanks to these children who took the time from their weekend to help raise money for the school, the MSPA really appreciate it.
In addition, shoppers also kindly donated their Active Kids Vouchers - a total of
9 ACTIVE SELF SERVICE VOUCHERS
Many thanks to Mrs Keeble who organised the event with Sainsbury's, we look forward to the event next year.
Mother's Day Gift Room - raised £297.11
Friday 13th March saw all the children at Maypole have the opportunity to purchase a Mother's Day Gift. The MSPA kindly went out and bought gifts for a pound and then sold them in the Gift Room for £2.00.
Every year its great to see the enjoyment on the children's faces that they come along with their £2.00 and they get to choose what they buy their mum.
Thanks to those parents that gave up their time to run the Gift Room.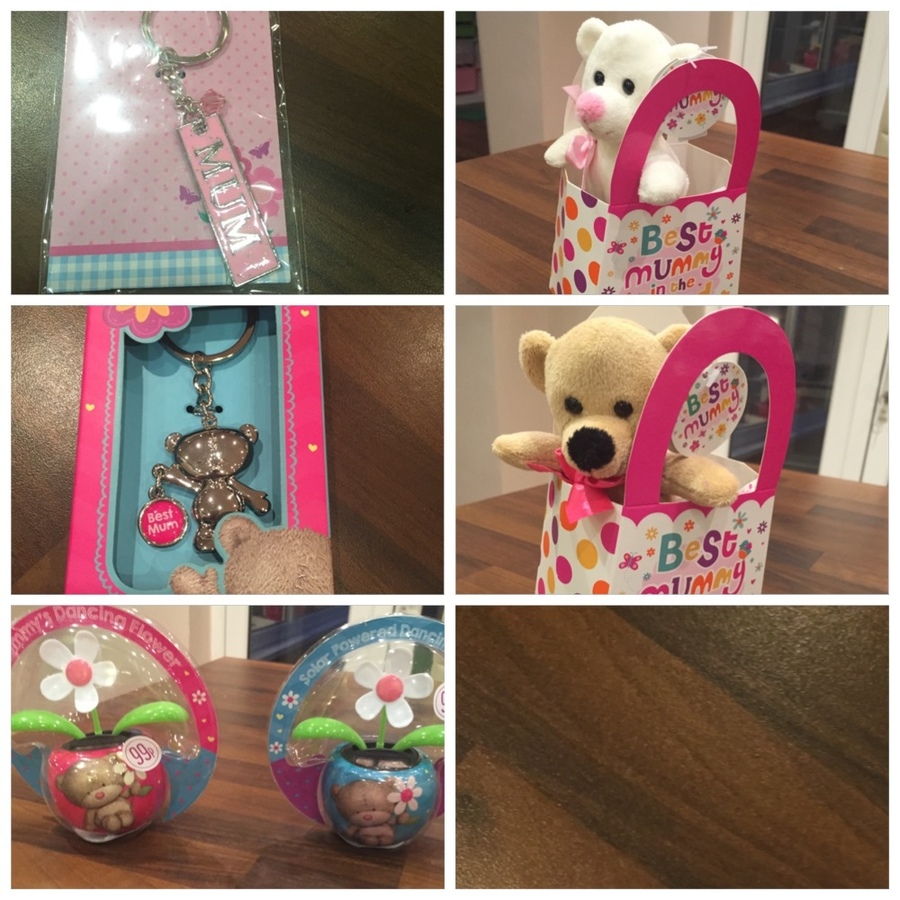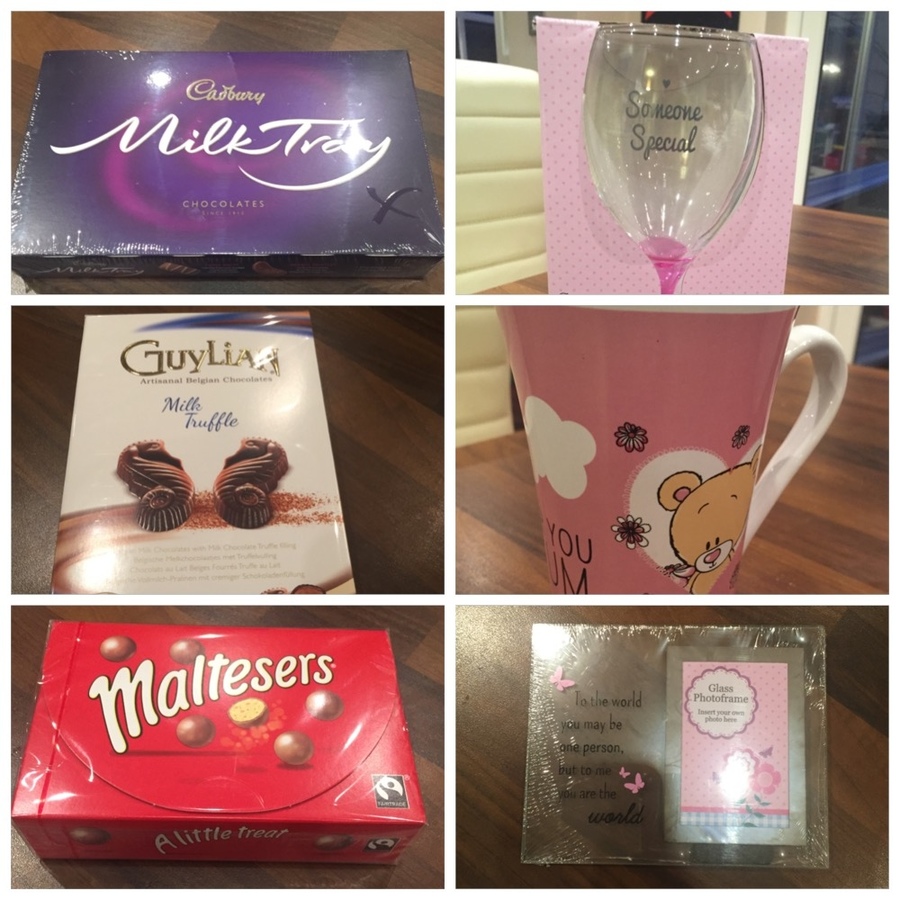 MSPA - Get a Headteachers Award !
Samantha Griffiths Chair of the Parents Association and Becky Hamilton Treasurer, attended Maypoles Award Assembly on Friday 13th February. This was a total surprise to both of us to be invited to assembly, as we had a meeting arranged with Mrs Wilmann.
The MSPA were given a Headteachers Award by Mrs Wimann. Joshua Botelho read and presented the award to Samantha Griffiths and the MSPA for organising the magnificent 'FIREWORK' display and for their continued fundraising and support for the school.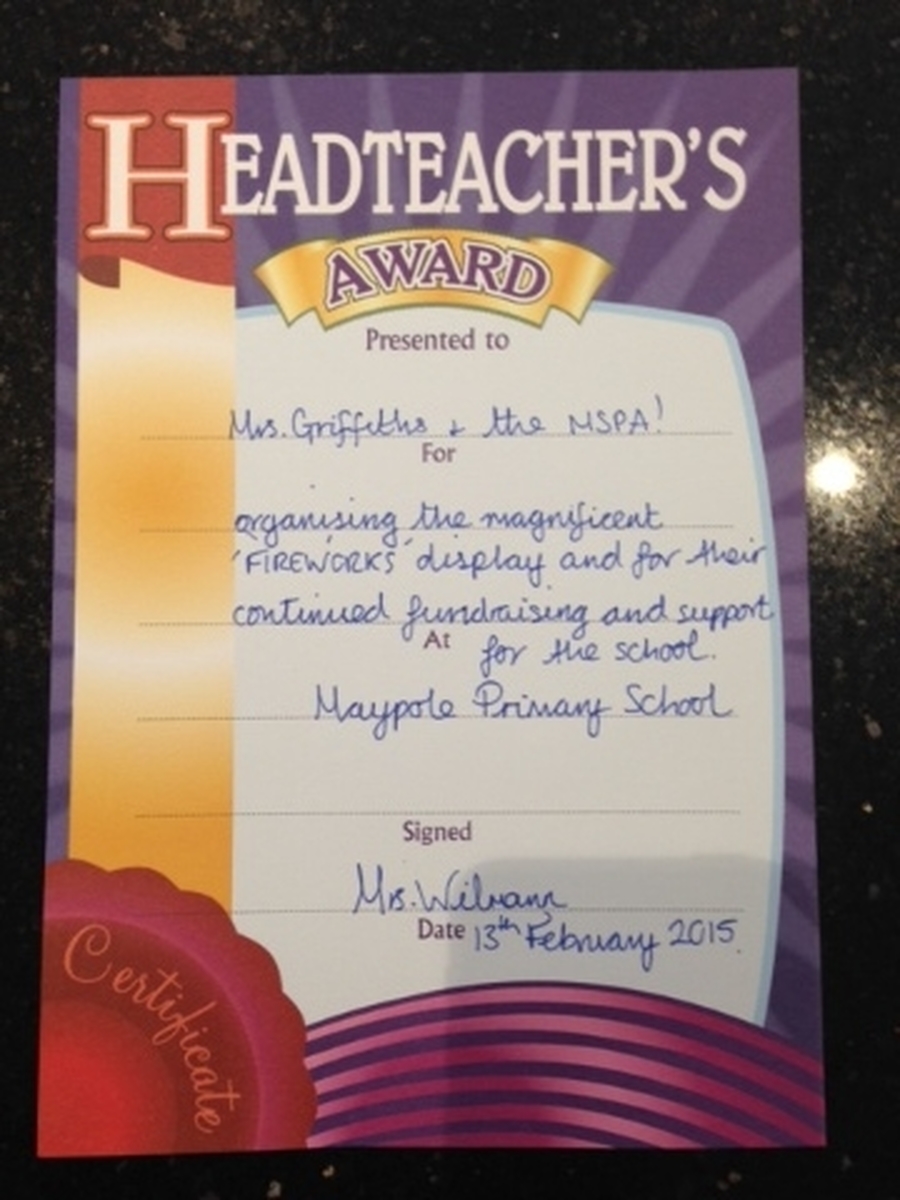 Maypole Fireworks - raised £562.75
Thank you to all those parents/carers/family and friends who came along to our Firework Display on Friday 30th January and made the evening a success.
The

MSPA

worked hard to ensure we were able to supply hot food from our new school kitchen. A huge thank you to

Manjit

Gill, Jenny Toms, Debbie

Crowhurst

for working extremely hard and making it possible to provide Burgers/Hot Dogs and Chips.
The

MSPA

also invested in their very own Candy Floss machine, thanks to Nikki Hill and Mrs Hughes for supplying an abundance of candy floss for all to enjoy on the night.
A big thank you to Matt Webb, for organising a free Bouncy Castle for the evening from Bouncy Castles Kent, enabling us to bring the cost down to £1.00 per go.
At the event there was many things to do, Face Painting, Splat the Rat, Scratch Art,

Wii

Challenge, we hope you all enjoyed your time before the release of the fireworks.
Thanks also to the Year 6 children who ran their Enterprise Schemes at the Fireworks and for your combined donation of £23.56 to the

MSPA

, we wish you all well with the remaining time that you are running your businesses.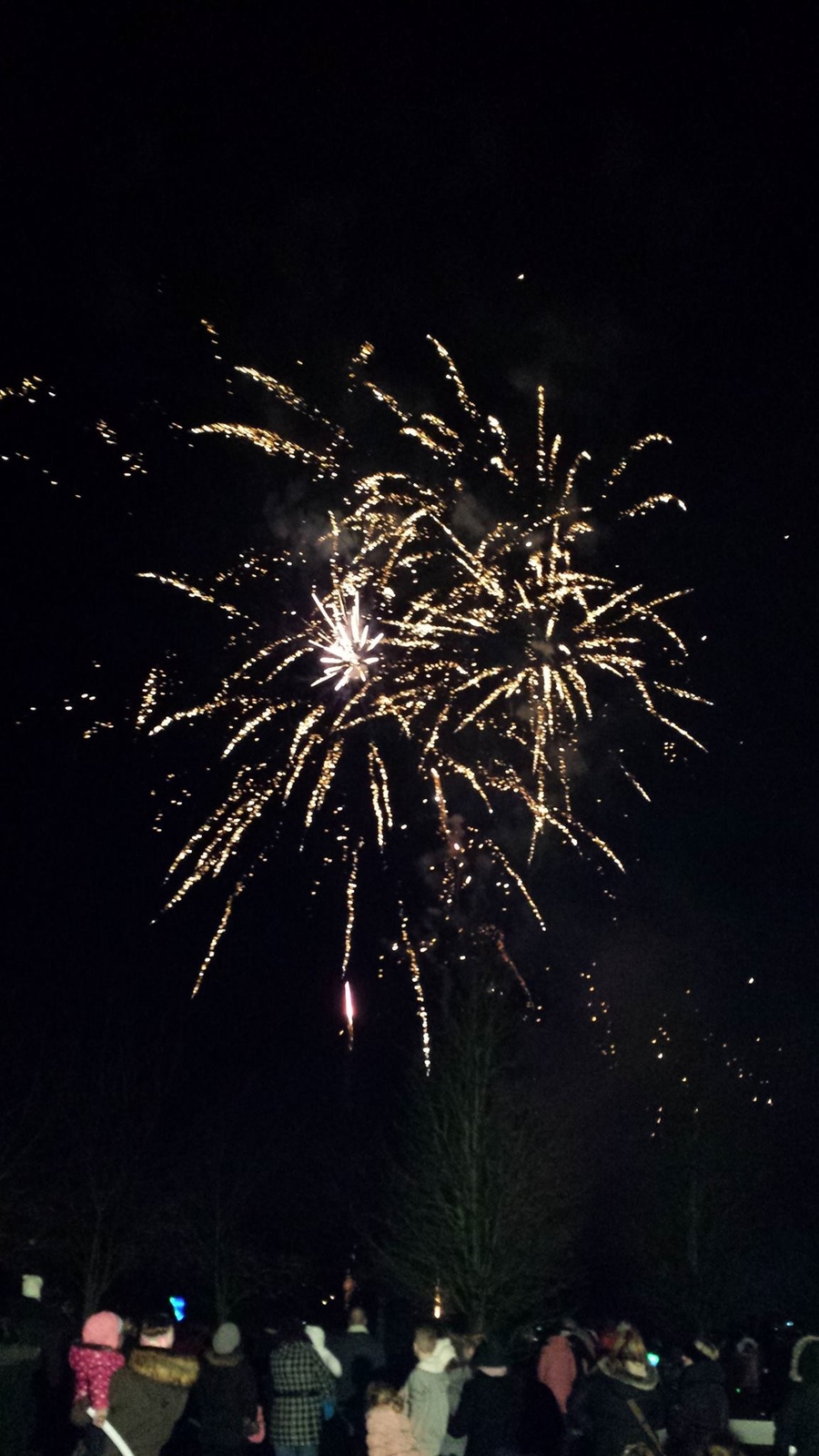 A huge thanks to Phoenix Fireworks a professional Pyrotechnic company based at

Wrotham

, who organised and released the fantastic display for us all to watch. Professional Fireworks displays are not cheap and with the support of the school community at the event we raised £562.75 for the school

MSPA

fundraising

.
Christmas Fair - raised £2,280.89
With the newly expanded school hall the MSPA organised the Christmas Fair all under one roof, previously the fair was spread across different rooms in the school.
Children, parents, family and friends were able to participate in a number of activities including cookie decorating, Wii challenge, Christmas Craft decorations, face painting plus many other fun activities. Various other stalls offered Christmas gifts, scrumptious cakes (donated by many parents - thank to them all) and lots more.
The stalls were manned by parents/carers/helpers, they voluntarily gave up their time to ensure the children had a fun time. Help is always welcome, please email mspa@outlook.com if you would like to help at a future event or leave your contact details at the school office.
The Christmas raffle offered many gifts which were generously donated by parents plus local business's including Jefferson Wolfe, Reynolds Gym, Water Sports, Steve the Butchers, Leeds Castle - thank you to them all.
Children were able to visit Santa in his grotto and receive presents. Santa was helped by his elves which in this case were Year 6 students, the elves were great with all the children and demonstrated excellent skills in distributing the reindeer food. The MSPA welcomes creative/innovative ideas from children at the school and if they would like to participate at any of the school events, or use the event as a platform to exercise their new ideas then what better place than at a school that encourages the children to dare to be the best, for further details please contact: mspa@ outlook.com
The Christmas Fair was overall a great success and £2280.89 was raised, this money will be used to ….. Thank you for all your support.
Personalised Christmas Cards - raised £221.50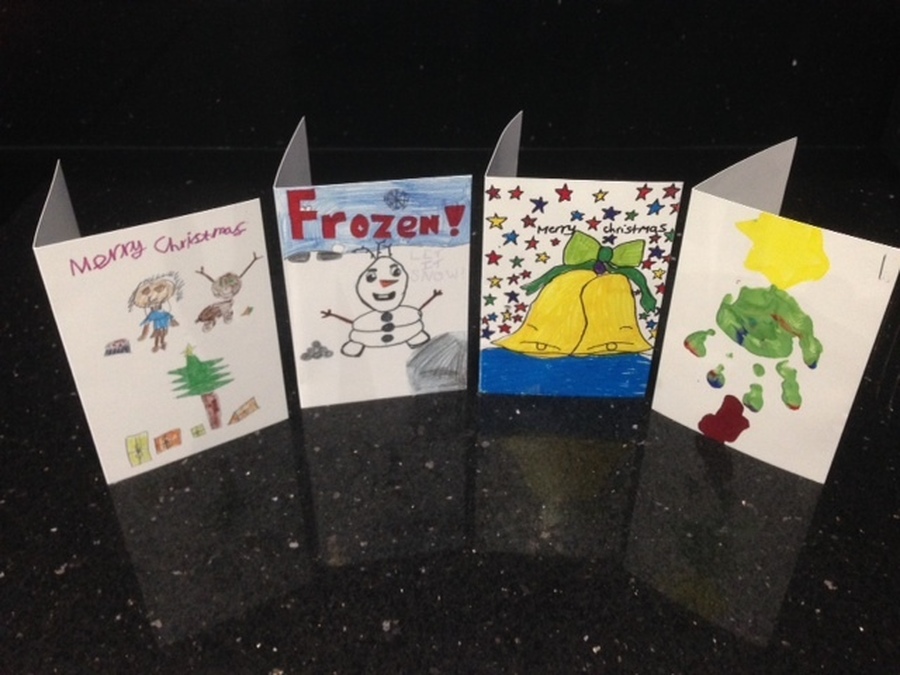 Before October half term, the children at Maypole School, were busily producing and designing the own personalised Christmas Cards. The designs were then sent of to My School Printing to be made into an example card for your child.
Each child was sent home with their card, along with an order form, allowing parents the opportunity to purchase packs of cards, gift tags, mugs, thank you cards, coasters and many more items. For every pack of cards bought the school received £1, on other items we received more than £1.
Thank you to all those parents who bought cards and other items, helping us raise money for the school. I am sure that you are all proud of your children's masterpieces as I am with mine.
Quiz Night - we raised £296.25
On Saturday 15th November teams battled it out to be crowned Maypole Quiz Champions. We all puzzled over a variety of questions while drinking our wine/beer & eating chocolate & crisps.
It was an amazing evening, with much laughter while we all tried to work out the answers that we all had on our tip of our tongues but couldn't quite remember! In the end the Lost Sheep, team captain Manjit Gill managed to topple the teachers from the top spot and claimed the winners prize of wine.
There was also a raffle where people won a variety of prizes including a family pass to Pirate Crazy Golf at Bluewater, wine and a beauty voucher. A huge thank you must go to our brilliant quiz master Liz Meany who led us through the 10 rounds. Everyone had loads of fun & we are looking forward to the next one.
Happy School Bags - we raised £146.40
Thank you to all those parents/carers who filled the Happy School bags with any unwanted clean clothes, handbags, belts and soft toys and took them to the school office.
All the bags were collected this afternoon, weighed and the school will were given 60p for every 1kg we collected. Once weighed we raised £146.40 towards this years fundraising.
This is a great way to raise money for Maypole School that doesn't cost you anything, so we will run another collection sometime in the year.
Mum's Night Out - Oct 2014
A huge thank you to all the mums who came to the Maypole mum's night out and made it such a success. It was lovely to see nearly 70 mums enjoying the hospitality of Birchwood Golf Club - it was a great place to catch up with old friends and make some new ones. There was lovely food, lots of alcohol, good music and some great dancing and some questionable dancing – we have the photos/videos to prove it! A big thank you must go to Samantha Griffiths for organising this night out and we hope it is the start of many.

Halloween Disco - we raised £743.90
It's that time of year again. Children and grown ups dressed up as witches, spiders, vampires and skeletons to name but a few and a school hall decorated with pumpkins, ghosts and scary looking skeletons. Yes it was the Halloween Disco.
This year we had the added bonus of it being in the much improved school hall. The children were able to have a huge space to dance in and still have room to sit at tables and munch their snacks and chat with their friends. It was fantastic to see so many children dressed up and having such a good time. Everyone had made such an effort with their attire – including the grown ups! It is a credit to the pupils that the DJ commented about what a pleasure it was to be there and see such well behaved children.
A huge thank you must go to all the helpers who gave up their evening so that the disco could go ahead and an amazing DJ who provided some great music. Without them it would not be possible. We look forward to the next disco and hope to see you all there.
MSPA Annual General Meeting
Thank you to all those parents who attended the MSPA AGM on Friday 25th September, the MSPA were pleased to share their results with you. Please read the attached document below to find out more.
Easyfundraising
raised so far £375.14
Easyfundraising.org.uk is the easiest way to raise money for Maypole School Parents Association - Bexley. Shop with any of over 2,700 retailers and a percentage of what you spend is donated to Maypole School Parents Association - Bexley at no additional cost to you.