Our Core Aims
I DARE to be the best
INCLUSION,DETERMINATION, ASPIRATION, RESPECT, EXCELLENCE
What do we want our Children to do when they leave School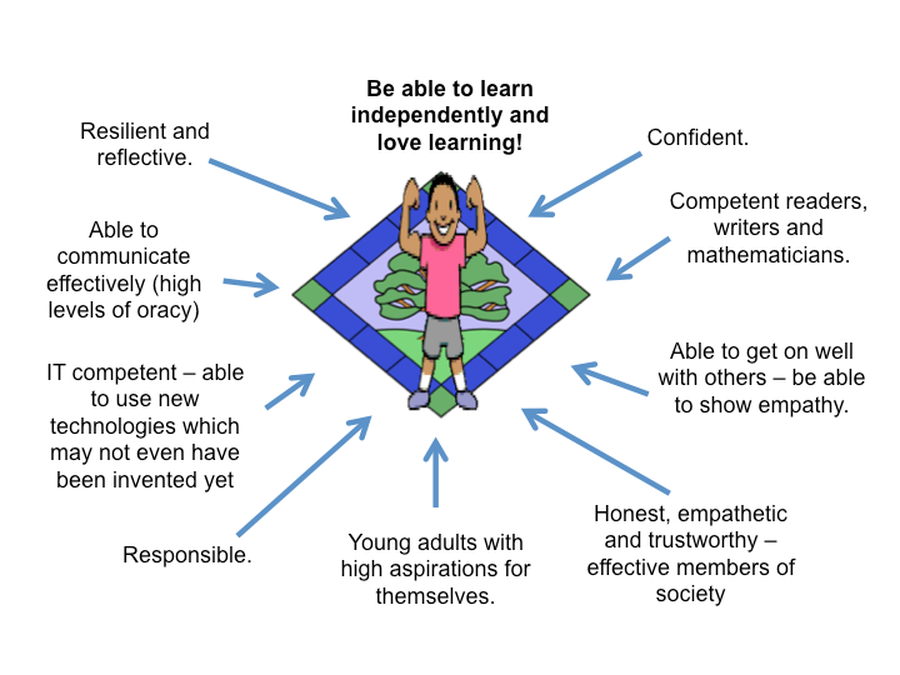 New National Curriculum - Facts

Pupils of compulsory school age in community and foundation schools, including special schools, and in voluntary aided and voluntary controlled schools must follow the National Curriculum.


Schools are free to choose how they organise their school day, as long as the content of the National Curriculum programmes of study is taught to all pupils.


By the end of each key stage, pupils are expected to know, apply and understand the matters, skills and processes specified in the relevant programmes of study.


The new National Curriculum identifies what to teach but not how to teach.


The new National Curriculum does not have levels of attainment, but expectations at each banding.


'Literacy' title has been replaced by 'English'.


No PSHE or RE contained within the Curriculum 2014 (but still to be taught).


Act of daily worship expected.


British values as part of everyday curriculum



Spiritual Moral Social Cultural
New National Curriculum - DfE
English, Maths and Science are the building blocks of education –improving our performance in these subjects will be essential.


In Maths there will be greater rigour. There will be a greater emphasis on arithmetic, and the promotion of efficient written methods of long multiplication and division. There will also be more demanding content in fractions, decimals and percentages.


In Science there is a stronger focus on the importance of scientific knowledge and language and a greater emphasis on the core scientific concepts underpinning pupils' understanding. For the first time primary aged children will learn about evolution and inheritance.


The proposed English programmes of study will embody higher standards of literacy. Pupils will be expected to develop a stronger command of the written and spoken word. Through the strengthening of the teaching of phonics pupils will be helped to read fluently.


The study of languages is compulsory in Key Stage 2.


Replace the current ICT curriculum with a new computing curriculum with a much greater emphasis on computational thinking and practical programming skills.


It is essential to distinguish between the statutory National Curriculum and the whole school curriculum. All schools must provide a curriculum that is broadly based, balanced and meets the needs of all pupils.



Academies and Free Schools have the freedom to depart from the National Curriculum. All schools must teach religious education at all key stages and secondary schools must provide sex education.



In other subjects and key stages we are aiming to give teachers more space and flexibility to design their lessons by focusing only on the essential knowledge to be taught in each subject.


Themes
OFSTED

DFE

A curriculum that:

• Sparks learning (evidenced from children and staff)

• Meets the needs of the children

A curriculum that:

• Ensures we are raising the game referenced against international comparators.

• Ensures secondary 'readiness'.
Our Curriculum